Martin JRM-3 Mars Air Tankers
British Columbia... A wonderful Canadian province with many very large forests and unpopulated areas. Fighting forest fires in such remote areas is not easy, and requires special equipment. Enter the gigantic Martin Mars, the largest operational flying boat in the world, and today's ultimate combination of air tanker and float plane.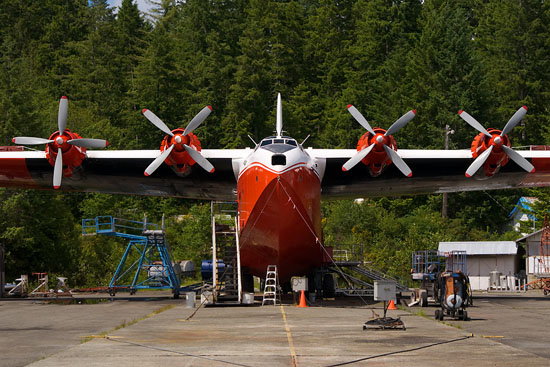 With a wingspan of 61 meters (200 ft), larger than that of the Boeing 747-300, the four-engined Martin JRM-3 Mars is the largest operational flying boat in the world. This photo shows Hawaii Mars (C-FLYK), smiling into my camera. Click on the photo for a larger image.
Regular air tankers need a base with a runway of some sort to reload after their drop runs. For British Columbia this is a bit of a problem, because it does not have that many airstrips. However, it does have lots of lakes and an impressive coastline with many bays and inlets. This makes it ideal territory for a large flying boat air tanker, which can do without a fixed base for reloading. All it needs is a strip of open water of a few kilometers long, and there are plenty of those in B.C. That is why two 61-year old Martin Mars flying boats have been very succesful in fighting forest fires in western Canada for almost 45 years. But now these two veterans are offered for sale...
A bit of Mars History
On 23 August 1938, the United States Navy placed an order with the Glenn L. Martin Aircraft Company for one XPB2M-1 patrol bomber, which would become the Navy's largest flying boat. The prototype, BuNo 1520 and nick-named 'Old Lady', was launched into Dark Head Creek at Martin's factory in Middle River, MD (near Baltimore) on 5 November 1941. The most striking difference between this prototype and the later production versions is that it still was a twin-tail design.
One month later disaster struck, when during taxi tests on 5 December 1941 the propeller of the #3 engine threw a blade, which severely damaged the fuselage and caused a fire in engine #3. This fire destroyed the engine, engine mount and part of the starboard wing. The repairs, as well as further tests and improvements, caused considerable delay, and 'Old Lady' finally made its first flight on 3 July 1942, much later than originally planned.
Testing was concluded in November 1942, but by that time the war situation in the Atlantic and the Pacific had changed considerably. There was no more need for a slow patrol bomber, and the U.S. Navy decided to have the Mars prototype converted from a patrol bomber to a transport aircraft. This meant the removal of its gun turrets, fuselage and wing bomb bays, armored plating and other offensive provisions. Instead, the aircraft received additional cargo hatches and cargo loading equipment, existing hatches were enlarged and the decking was reinforced. It was now redesignated as an XPB2M-1R, to signify its new transport role.
Then, on 27 November 1943, the giant transport aircraft was officially delivered to the U.S. Navy. It first flew with the newly formed VR-8 from Patuxent River, MD for crew training and was later transferred to VR-2 at NAS Alameda, CA. It was mainly used on the Pacific routes between California and Hawaii, where it built an impressive service record.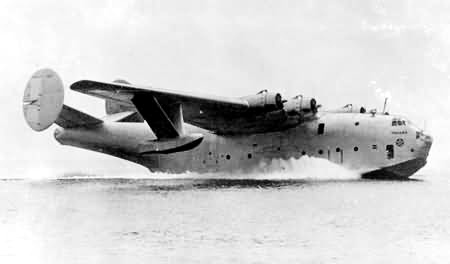 The Martin XPB2M-1 prototype (BuNo 1520) in its distinctive shallow-V-shaped twin-tail configuration. In this photo it still has the gun turrets in the nose and tail, which would later be removed (U.S. Navy photo).
Satisfied with its performance as a transport aircraft, the U.S. Navy ordered twenty production aircraft. This production version, designated the JRM-1, differed from the prototype in being a single-tail design, and having a longer hull with fewer bulkheads and a larger maximum take-off weight. It had also been fitted with equipment for overhead cargo handling and was powered by four Wright R-3350-24WA Cyclone engines with 4-bladed propellers.
By the time the first JRM-1 Mars, BuNo 76819 'Hawaii Mars', was delivered on 27 July 1945, World War II was almost over, and the Navy cut down its order from 20 to only 6 aircraft. The last of these was delivered as a JRM-2, equipped with the more powerful Pratt & Whitney R-4360 Wasp Major engines, which allowed it to carry even more weight on the flights between California and Hawaii. The Navy was very pleased with its performance, and decided to also have the four remaining JRM-1's (one had been destroyed in a landing accident) re-engined with the Wasp Majors. These four aircraft were then redesignated to JRM-3.
The U.S. Navy lost a second Mars in 1950, but continued to operate its remaining JRM-2 and three JRM-3's until 1956. The last flight took place on 22 August 1956, and all four aircraft were beached at NAS Alameda near San Francisco, CA.
Forest Industries Flying Tankers (FIFT)
During the mid and late 1950s, a number of large forest fires plagued western Canada and destroyed many acres of forest. In an effort to combat such fires, also in remote areas, several of Canada's major lumber corporations, among them MacMillan Bloedel Ltd., TimberWest Forest Corp. and Pacific Forest Product Ltd., decided to join forces and formed Forest Industries Flying Tankers (FIFT). Given British Columbia's geography and lack of suitable airstrips, Dan McIvor, a Canadian air tanker pioneer and senior pilot with MacMillan Bloedel Ltd., wanted to convert large flying boats into water bombers.
In 1959, the U.S. Navy put the four Martin Mars flying boats up for auction. McIvor was informed about this, but he was too late and found the auction had already closed. The winning bid was from Hugo Forrester, trading as the Mars Metals Company, who bought all four aircraft for scrapping, for a total sum of only $23,650. McIvor contacted Forrester, whom he found willing to sell the four aircraft for $25,000 each. With some effort, McIvor was able to convince his superiors of the air tanker potential of these large flying boats, and the deal was made. FIFT now owned four Martin Mars flying boats.
McIvor also had the foresight to immediately start a hunt for spare parts for the flying boats. He bought six spare engines for $135 each, later followed by 29 more R-3350's from a scrap dealer for $600 each. He also discovered the U.S. Navy still owned many crates of factory-new spare parts, which he was able to buy for only $3,200. These purchases enabled FIFT and its successors Flying Tankers Inc., TimberWest and Coulson to operate the Mars flying boats well into the 21st century.
Dan McIvor remained the driving force behind the entire operation of getting the aircraft into service with FIFT and developing the correct and most efficient operating procedures. They were converted to air tankers during the early 1960s by Fairey Aviation of Canada at Victoria International Airport (Patricia Bay), Sidney, B.C. This conversion involved the removal of all unnecessary military and cargo-loading gear, the re-installation of the original Wright R-3350 Cyclone engines of the JRM-2, and the installation of large water tanks and a sophisticated retractable scooping system.
In the early years of the operation, two of the four aircraft were lost, one in a crash in 1961 which took the lives of all four crew members, and the other was damaged beyond repair during a storm in 1962. Although these were very serious setbacks, they did not deter the people of FIFT. They pressed on with their plans, and the fourth and last Mars was converted to air tanker and put into operation in 1964. No other serious accident has occured since that time.
Operation
There are a few noteworthy differences between the two remaining aircraft (Philippine Mars and Hawaii Mars). During the air tanker conversion in the 1960s, Philippine Mars' water tanks were installed inside the main fuselage, where the cargo used to be stowed. Hawaii Mars however had them installed in the bottom of the fuselage, where the fuel tanks used to be. This also mandated a difference in the dropping mechanisms: Philippine Mars drops its load from two outlets on either side of the fuselage, whilst Hawaii Mars drops more like a conventional air tanker, from its belly.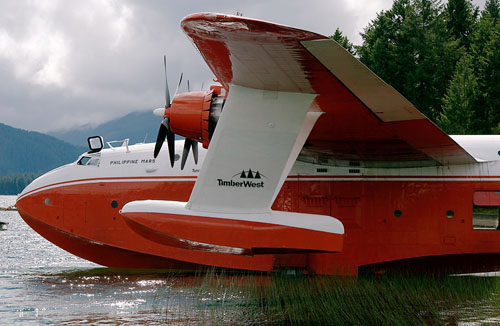 The two air tankers have different dropping mechanisms. 'Hawaii Mars' drops its load from the aircraft's belly, whilst 'Philippine Mars' does it from two openings on either side of the fuselage below the wings, clearly visible in this photo.
The two Martins at Sproat Lake are very seldom found as close to shore as this. For more photos such as this one, check the photo page. Click on the photo for a larger image.
The removal of fuel tanks from Hawaii Mars in favour of water tanks means that it is able to take on far less fuel than Philippine Mars. Whilst Hawaii Mars can only take 24,550 litres (6,485 gallons), Philippine Mars can take on more than twice as much: 49,962 litres (13,200 gallons).
Despite these differences, both aircraft can take on the same amount of water: 27,276 litres (7,200 gallons). This water can optionally be mixed with foam concentrate from a tank with a capacity of 2,270 litres (600 gallons), which increases the effectiveness of a water drop by about 30%.
The aircraft are always flown by a crew of four: a captain, a first officer, and two flight engineers. The captain and first officer fly the aircraft, and the flight engineers take care of the loading and dropping operations.
When a Mars needs to fill its water tanks, a normal landing procedure is executed. Once on the water, the captain allows the speed to drop to about 130 km/h (70 knots), while keeping the aircraft "on the step" (the ledge on the lower fuselage, used to break the water suction). One of the flight engineers then takes control of the engine power, and the two scoops are lowered into the water. These scoops are essentially two forward-facing pipes with a diameter of 18 cm (7 inches).
The aircraft is now taking on water at a rate of more than 1,000 litres (264 gallons) per second, and it takes only about 25 seconds to completely fill the tanks. During this time, the increasing weight of the aircraft requires the flight engineer to slowly increase engine power to maintain the speed at around 120 km/h (65 knots). When the tanks are full, the scoops are raised and the captain performs a normal loaded take-off.
Obviously the Mars can reload much faster than a land-based plane. In fact, when operating in British Columbia with suitable lakes or bays nearby, it can on average drop a full load on the fire every 15 minutes, and it can make 20 consecutive drops before the foam concentrate tanks are empty. No other air tanker even comes close.
Today
So, out of the seven built, only two of these giant machines now remain. They soldiered on, and were still in use in 2006, after almost 45 years of fire fighting duties. During the fire season you could usually find them floating peacefully on Sproat Lake near Port Alberni on Vancouver Island, both over 60 years of age now. They are today's ultimate air tankers for water-rich areas, under the care of Flying Tankers Inc. (renamed from Forest Industries Flying Tankers Inc. in 2001). This company is now a wholly-owned subsidiary of TimberWest Forest Corp., after the other corporations dropped out of FIFT years ago.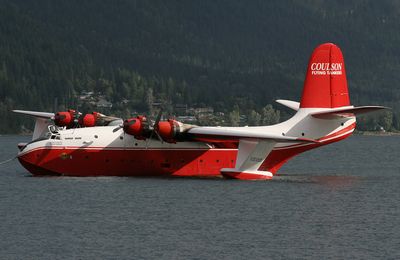 Hawaii Mars C-FLYK now painted with the tiles of its new owner, Coulson Flying Tankers. Photo taken at Nelson, BC, Canada on 8 August 2007 by Douglas Noblet. Click on the photo for a larger image.
Unfortunately, the end of 2006 saw signs of change. On 10 November 2006, TimberWest issued a press-release, in which they offered their Martin Mars water bombers for sale. Initially, the tendering process was to close on 31 December 2006, but this was later changed to 31 january 2007. TimberWest expects the sale to be completed by late March 2007.
Although unlikely, it would be nice if a way could be found for these aircraft to continue their firefighting duties. After all, although they are more than 60 years old, they have always been extremely well maintained and cared for. They still have many years of life left in them, and there still are many spare parts available. With these two giants being the last of their kind, a last reminder of an age in aviation now long gone, it would be a real loss to see them go out of operation prematurely.
A serious candidate to buy one Mars is the Glenn L. Martin Maryland Aviation Museum, located right at the birthplace of these flying boats, at Middle River in Maryland. The museum would very much like to bring the Mars back home, and started a fund-raising campaign.
On 19 January 2007 the museum signed a Memorandum of Understanding with the British Columbia Aviation Council (BCAC) to work together to acquire both Martin Mars aircraft from TimberWest. Four days later a press-release was issued by both parties.
BCAC has proposed plans for a new Daniel McIvor Martin Mars Museum to be established in Port Alberni, the current home base of the Martin Mars aircraft. This new museum would then receive one of the two Martin Mars aircraft, which would thus stay at Port Alberni (a requirement of TimberWest). The other Mars would then go to the Glenn L. Martin Maryland Aviation Museum in Middle River, MD.
On 31 January 2007, the closing date of the tendering process, the museum and BCAC submitted a letter of interest to TimberWest, expressing their interest in acquiring both aircraft. As of 23 February 2007, both parties were still waiting to be short-listed by TimberWest, to enter into the next round of negotiations.
Update 14 April 2007 - Both Mars sold!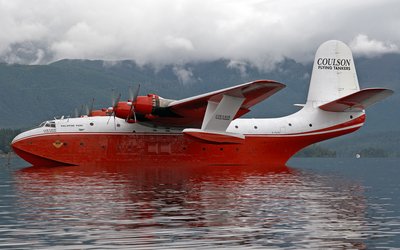 New owner Coulson Flying Tankers did not waste any time applying their titles on their two new acquisitions. Shown here is white-tailed Philippine Mars C-FLYK at its home base at Sproat Lake, Port Alberni, BC, Canada on 20 August 2007. Photo copyright Teemu Tuuri - FAP. Click on the photo for a larger image.
On 13 April 2007 it was announced that TimberWest Forest Corp. has reached an agreement to sell both Martin Mars flying boats to another Vancouver Island-based lumber corporation, the Coulson Group of Companies. More specifically to the group's aerial division, Coulson Aircrane Ltd. Coulson Aircrane is a helicopter operator, specializing in aerial firefighting and heli-logging, and is based at Port Alberni Airport, only 3 km north of TimberWest's base at Sproat Lake.
The sale, which is said to take effect on 1 May 2007, includes several spare engines and many other spare parts, as well as specialized equipment. The TimberWest facilities at Sproat Lake are also included in the deal. Part of the purchase agreement is also that upon retirement of the aircraft, one Martin Mars will be made available to the Port Alberni community for preservation.
To aviation enthusiasts all this is very good news. It means that the two Mars flying boats will be kept operational as water bombers, and that they will remain based at Sproat Lake. In effect it seems that, for now, nothing much will change.
Update 02 June 2007: During May 2007, the company website was updated to show the new name: Coulson Flying Tankers.
Nose section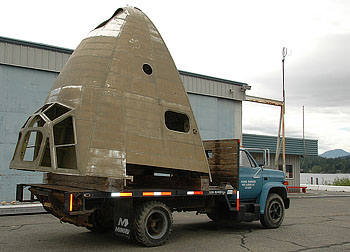 Recovered after some 40 or 45 years in the brush at the Martin Mars base at Sproat Lake: the nose section of the unfinished eighth Martin Mars. Photo taken on 3 July 2007 by Hans van der Vlist. Click on the photo for a larger image.
When the Second World War ended in 1945, the US military abruptly cancelled many thousands of their aircraft orders. As already mentioned earlier on this page, the US Navy cut its order for the Martin Mars flying boat down from 20 to only 6 aircraft. At that time construction of the seventh aircraft (the eighth Martin Mars, including the prototype) was already underway at the Glenn L. Martin Aircraft Company at Middle River, but consequently this airframe was never completed.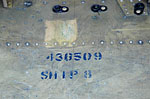 Detail shot of the nose section, showing build or part number 436509 for Ship 8. Photo by Hans van der Vlist. Click on the photo for a larger image.
Not knowing what to expect in the future, Dan McIvor of Forest Industries Flying Tankers also acquired the nose section of this unfinished aircraft, and it too was transported to Canada. But it was never put to use and lingered in the brushwood close to their Sproat Lake base for what must have been 40 or perhaps even 45 years, with weeds and small trees growing all around it.
This nose section was finally recovered in the summer of 2007 by the Coulson family, when they took over the company. They restored it and painted it in the same red and white colours as their two Mars flying boats, and then placed it on display at the newly established visitors centre at the Sproat Lake base.
Production List
As mentioned before, one prototype and six production aircraft of the Martin Mars have been built. The histories of these seven aircraft have been summarized in this production list:
Msn
Type
Date
Reg
Owner/operator
Name
Remark
877
XPB2M-1
05-Nov-1941
mfd
1520
Glenn L. Martin Co.
Old Lady
Officially launched into Dark Head Creek, Middle River, MD on 05-Nov-1941.
During taxi tests at the Middle River, MD plant on 05-Dec-1941 the propeller of engine #3 threw a blade, which caused an engine fire and severely damaged the aircraft. Repairs took more than 6 months. First flight 03-Jul-1942.
XPB2M-1R
1942
cvd
1520
Glenn L. Martin Co.
Old Lady
Converted for transport role, gun turrets and bombing equipment removed.
27-Nov-1943
del
1520
United States Navy
Old Lady
Delivered to VR-8 at Patuxent River, MD.
Mar-1945
wfu
1520
United States Navy
Old Lady
Withdrawn from service at Alameda, CA Mar-1945.
Returned to Martin Co. for JRM-1 crew training, arrived at Middle River, MD Apr-1945.
Transferred to NATC Patuxent River, MD as a maintenance trainer until 1949.
Later broken up, presumably at Patuxent River, MD.
9263
JRM-1
27-Jul-1945
del
76819
United States Navy
Hawaii Mars
05-Aug-1945
w/o
76819
United States Navy
Hawaii Mars
A failure of the vertical stabilizer leading edge caused a severe porpoising motion on landing at Chesapeake Bay, Baltimore, MD. The aircraft went out of control, broke up and sank.
9264
JRM-1
26-Jun-1946
del
76820
United States Navy
Philippine Mars
JRM-3
cvd
76820
United States Navy
Philippine Mars
Wfu 07-May-1956. Stored at NAS Alameda, CA. TT 18662.
1959
bt
Mars Metals Co.
Philippine Mars
05-Sep-1959
del
CF-LYK
FIFT
Philippine Mars
Converted to air tanker configuration in 1962.
1976
rr
C-FLYK
FIFT
Philippine Mars
04-Jul-2001
ren
C-FLYK
Flying Tankers Inc.
Philippine Mars
Offered for sale 10-Nov-2006.
01-May-2007
bt
C-FLYK
Coulson Flying Tankers
Philippine Mars
9265
JRM-1
28-Feb-1946
del
76821
United States Navy
Marianas Mars
JRM-3
cvd
76821
United States Navy
Marianas Mars
Wfu 31-Aug-1956. Stored at NAS Alameda, CA. TT 19654.
1959
bt
Mars Metals Co.
Marianas Mars
08-Aug-1959
del
CF-LYJ
FIFT
Marianas Mars
Converted to air tanker, into service Spring 1960.
23-Jun-1961
w/o
CF-LYJ
FIFT
Marianas Mars
Crashed into Mount Moriarty near Parksville, BC during a regular drop run. Some reports suggest a failure of the water drop mechanism, which left the aircraft too heavy to climb quickly enough to avoid the mountain. However, no definite cause has officially been documented for this accident.
9266
JRM-1
Feb-1946
del
76822
United States Navy
Marshall Mars
JRM-3
cvd
76822
United States Navy
Marshall Mars
05-Apr-1950
w/o
76822
United States Navy
Marshall Mars
Suffered in-flight engine fire and force-landed in Ke'ehi Lagoon, Oahu, HI. The fire continued to spread and when it reached the fuel tanks the aircraft exploded and sank.
9267
JRM-1
23-Apr-1946
del
76823
United States Navy
Hawaii Mars
JRM-3
cvd
76823
United States Navy
Hawaii Mars
Wfu 16-Aug-1956. Stored at NAS Alameda, CA. TT 20038.
1959
bt
Mars Metals Co.
Hawaii Mars
12-Sep-1959
del
CF-LYL
FIFT
Hawaii Mars
Converted to air tanker configuration in 1964.
1976
rr
C-FLYL
FIFT
Hawaii Mars
04-Jul-2001
ren
C-FLYL
Flying Tankers Inc.
Hawaii Mars
Offered for sale 10-Nov-2006.
01-May-2007
bt
C-FLYL
Coulson Flying Tankers
Hawaii Mars
9268
JRM-2
10-May-1948
del
76824
United States Navy
Caroline Mars
Wfu 27-Jul-1956. Stored at NAS Alameda, CA. TT 10116.
1959
bt
Mars Metals Co.
Caroline Mars
27-Aug-1959
del
CF-LYM
FIFT
Caroline Mars
Converted to air tanker configuration in 1961.
12-Oct-1962
w/o
CF-LYM
FIFT
Caroline Mars
Aircraft was parked on its beaching gear at Victoria International Airport, Sidney, B.C. for maintenance with Fairey Aviation of Canada, when its tie-down lines snapped during typhoon "Frieda". The beaching gear collapsed, and the aircraft was blown across the tarmac for some distance until it ran into a highway shoulder, causing damage to the left wing and float, as well as to the keel. It was considered damaged beyond repair and was broken up for spares.
9269
JRM-2
76825
United States Navy
Uncompleted airframe. Nose section to Forest Industries Flying Tankers at Sproat Lake, Port Alberni, B.C. To Coulson Flying Tankers in 2007.
Production List Legenda:
| | | | | | | | | | | | |
| --- | --- | --- | --- | --- | --- | --- | --- | --- | --- | --- | --- |
| bt | = Bought | | del | = Delivered | | ren | = Renamed | | wfu | = Withdrawn from use | |
| cvd | = Converted | | mfd | = Manufactured | | rr | = Reregistered | | w/o | = Written off | |
Some links
More info on the Martin Mars flying boats and their operations can be found at:
Photos of the Launch of a Martin Mars (this website)
Glenn L. Martin Maryland Aviation Museum
A map of Port Alberni / Sproat Lake Tanker Base
Martin Mars photos at Airliners.net
Advertising video for the Martin Mars air tankers
Old newsreel footage of the Martin Mars in military service
Coulson's Martin Mars performs magnificently for the crowds at its home base Sproat Lake
Thanks
Many thanks to Teemu Tuuri, Douglas Noblet and Hans van der Vlist for allowing me to use their photos.
References
Sources used in the compilation of this web page:
"Martin Aircraft 1909 - 1960", by John R. Breihan, Stan Piet and Roger S. Mason (1995 edition).
"United States Navy Aircraft since 1911", by Gordon Swanborough and Peter M. Bowers (1990 edition).
"Martin Mars XPBM-1R & JRM Flying Boats", by Steve Ginter (1995 edition).
"U.S. Military Aircraft Designations and Serials since 1909", by John M. Andrade (1979 edition).
"Mars to War!", by Michael O'Leary, Air Classics magazine, October 1998 issue.
TimberWest Forest Corp. website.
Historical section of the United States Navy website.